Anglapro a versatile vessel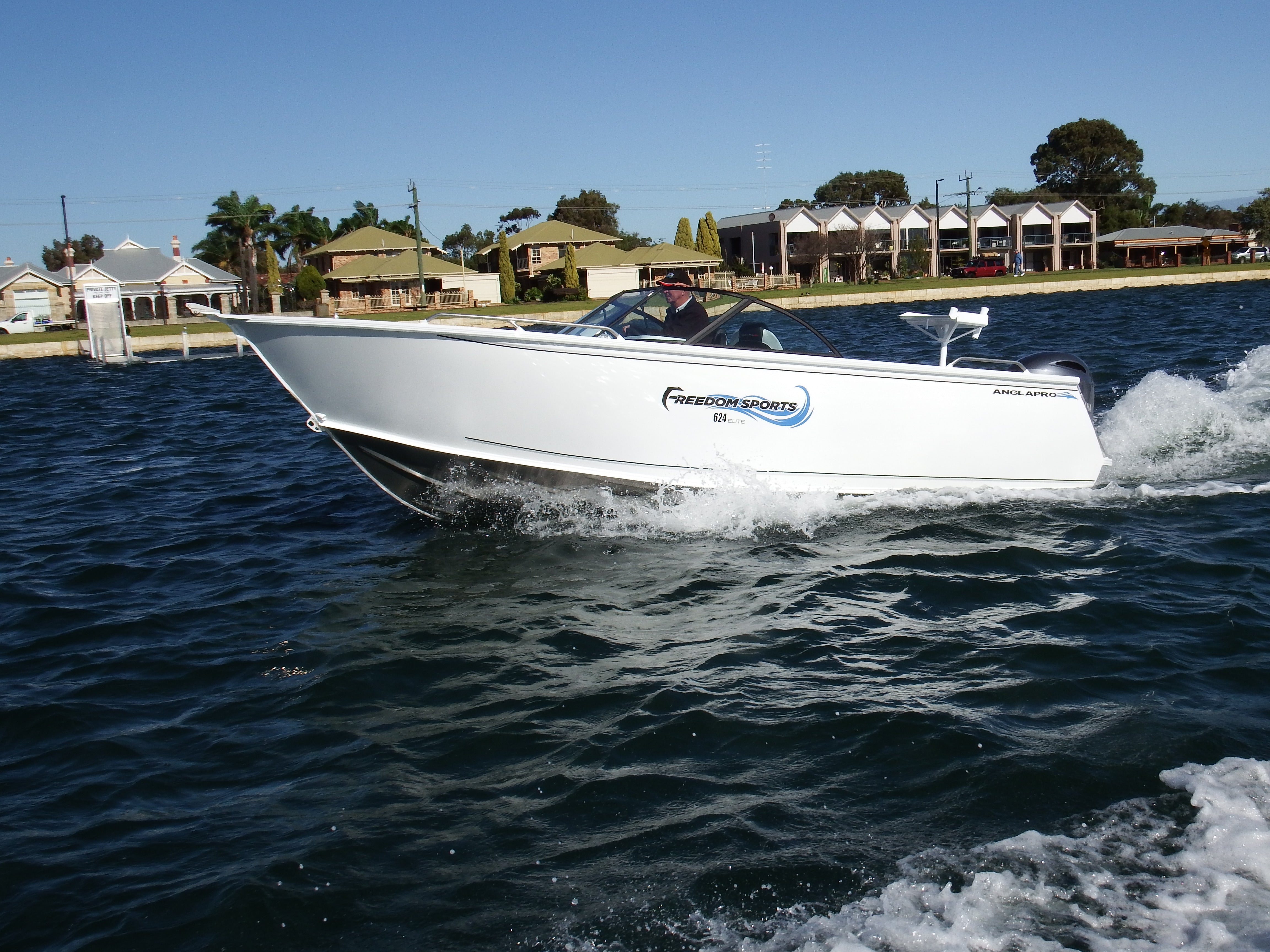 Family boating is on the rise in Australia with the latest model from Brisbane-based Anglapro offering safety and security for all on board, as BARRY WISEMAN reports.
WHILE international borders were closed, Australians were spending their tourist dollars to have fun at home and boating was a big winner, albeit Covid usually meant you had to wait a bit longer to get your new toy.
Australian boat manufacturers have been working flat out to keep up with demand, but they too are frustrated getting resin or aluminium supplies.
Marine dealers like Greg Collett from the Sportsmarine Boat Centre at Bunbury have been grabbing whatever vessels they can because they know someone out there will want that boat. Not all dealers have the backing to do that, however Greg has decades of experience and contacts in the industry and his policy is to have as many vessels on hand as possible to provide a choice to buyers.
The Anglapro Freedom Sports 624 Elite is so new the manufacturer was still waiting to post their demo photographs on its website at the time when I had mine in the camera. The paint on the 624 was hardly dry when we launched at the Bunbury ramp on what was the first sunny day for months.
Ocean conditions made it tough going for photography, so we sought shelter in calmer waters for our camera shoot and this was a good opportunity to sit back and relax in a vessel designed for just that. Relaxing with the family in a broad-beamed boat with safety a top priority. There was no need for high-speed runs and leaping from wave crests.
Today was about spending time on the water. One thing was missing though – the ankle biters.
The Anglapro 624 is a bowrider configuration and is ideal for families with tackers as it offers excellent, safe seating in the bow of the vessel and within sight of mum and dad. Grandparents can sit on the lounge across the transom. The vessel is rated to carry six people and has an overall length of 6.3m. Being a bowrider that means every centimetre is taken up for family use.
After a leisurely trip up the river, estuary or anchored in a bay at Rottnest, the infill cushion is slotted into place up front, and you can have a nap on what converts the front seating in the bow section into a sun bed. A temporary cover over the front on a warm summer night makes for overnight camping instead of heading back home.
To get up front in the 624, the windscreen is split and there's a door fitted to the helm bulkhead. For the sake of the photos in this article, we left the infill cushion in place to show the storage space in the bow when it is being used. When the cushion is stored you have normal bench seating in the forward section.
There's plenty of depth in the interior for youngsters to be safe and of course they are in full view of the skipper and co-pilot. Padded coamings supply comfortable protection to your back for those seated up front, plus there are grab rails port and starboard.
The anchor well up front is deep and there's easy access by kneeling on the bench seat cushion and of course heaps of storage space under the seats themselves.
However, the Anglapro 624 is more than a family boat and its size provides the opportunity to take it well offshore as a fishing machine. The bow section offers fishing space plus the rear cockpit converts this party boat into a bluewater performer. The rear lounge base has great storage within, or it can be removed completely to bring craypots on board, or fish up to three people at the rear.
There's a substantial bait board at the rear plus a plumbed bait tank on the starboard rear quarter. A walk-through transom door is fitted on the port side, with a robust dive ladder fixed to the marlin board.
For picnics the bait board doubles as a table for preparing lunch or a cuppa and it is large enough to accommodate a portable stove or barbecue if you're boiling up a fresh cray or a feed of blue manna crabs on the Mandurah estuary.
The skipper and co-pilot have pedestal bucket seats fitted with bolster cushions that lift to support the back if necessary.
Polymer has been used to construct a moulded dashboard for the skipper. On the passenger side there's a deep shelf for car keys, a lock-up glove box and recessed drink holders. The automotive-style layout looks stylish and avoids cutting holes in the aluminium. Also the plastic is much easier to work with if the owner decides to change electronics or engine gauges.
The review vessel was fitted with a Lowrance Hook 5 fish finder and chartplotter, however there's space for a larger unit.
It is teamed up with a Yamaha 150hp four-stroke motor, but ocean conditions and speed restrictions prevented us getting to WOT.
On all Anglapro vessels built using 3mm aluminium or thicker, a five-year warranty applies. The hull on the 624 bowrider is made from 4mm material, with 3mm on the top.
That theme is paramount in the design, starting off with a heavy-duty keel, from which there are a series of ribs or 'frames' which form the skeleton of the hull. Depending on the length of the hull, the frames are spaced from between 250 and 300mm and are designed to minimise hull flex and give that rigid support.
This in turn, provides a softer and more responsive feel to the performance of the vessel.
Anglapro says quite often manufacturers will space the ribs out farther to save build time and material costs, which has a dramatic detrimental effect to on-water performance. In the case of Anglapro boats any bulkheads are then welded to the ribs of its vessels to give a solid structure for the floor and for improved hull integrity. The bulkheads also become the foundation for internal fixtures such as seats, fuel tanks, consoles and storage to be securely fixed into the boat.
Larger models with transom pods such as the 624 come with complex support structures to cater for more horsepower. Once the skeleton of each vessel is ready, bottom and side sheets of alloy are welded to the frames and of course the top side decks add strength and stiffness to the build.
Anglapro says it keeps its hulls simple by design, however all must achieve four main results: plane easily with minimal hole shot effort; corner comfortably; offer stability at rest; and be comfortable underway through choppy seas.
The company prides itself on building boats for Australian conditions, giving the customer a safe and pleasurable craft.
As previously mentioned, we could not make high-speed runs this day due to the ocean conditions, but we certainly gave the vessel the stability test. Space onboard was plentiful.
The ride was comfortable, although my only gripe was when sitting, as the windscreen could be a bit higher. It seems to be fashionable these days for the driver to be looking over the top of the screen. Other major Australian brands also fit screens that are lower than your eye line. At speed you need to be wearing your sunglasses or you end up with watery eyes. If any spray or green water comes over the front, you cop it in the face and the girls complain about their hair being all over the place.
A mate of mine bought a new boat recently from one of the largest manufacturers in Australia and has had all sorts of problems trying to get a taller windscreen fitted. He was told to fit plastic clears instead. His has a curved perspex screen with aluminium trim and he cannot get a replacement around 150mm higher. He was told by the manufacturer the screens are imported and that's the size you get!
 He, like many of us, prefers to sit behind the screen for protection. His option was to order a custom one at a ridiculous price. I think buyers should have the choice of having a high or low screen fitted to their new production vessel. Having said that, on the day in question, Greg did not have a problem with his hat while at the wheel, although we were not going fast. I have lost so many hats to the sea during boat reviews, that I don't bother wearing them now, much to the displeasure of my dermatologist during my annual skin inspection when he tells me off, plus I don't use enough sunblock on my face.
It's a personal thing I suppose regarding windscreen height. Certainly, with our climate most local buyers would be fitting a canopy for sun protection so a set of clears would fix the issue. However, they are not cheap and unless your rig is parked undercover the plastic deteriorates after a few years.
With the Yamaha 150hp on the transom including the stainless prop, the review boat was balanced and sat well on the water. The 624 Freedom Sports can take up to 175hp and the transom is rated to a maximum of 245kg. Under the deck there's a 145-litre fuel tank as well as basic flotation.
The battery is housed on a shelf in the transom hatch behind the rear lounge and the baitboard can be replaced with a towing pole, which is standard equipment, for skiing or pulling a sea biscuit.
The Anglapro 624 Freedom Sports Elite Bowrider is a large family fun boat suitable for picnics plus offshore fishing adventures. Although high on the water, it has a low profile on its galvanised tandem trailer and is well suited for towing long distances.
It is now the largest in the Freedom Sports Elite range and offers safety and security on the water.
NUTS & BOLTS
MODEL: Anglapro Freedom Sports 624 Elite Bowrider
OVERALL LENGTH: 6.3m
BEAM: 2.48m
POWER: Yamaha 150hp (175hp max)
FUEL: 145L
MANUFACTURER: Anglapro. www.anglapro.com.au
AGENT: Sports Marine Boat Centre; 57 Strickland Street, Bunbury; Ph: (08) 9721 4390; greg@sportsmarine.com.au; www.sportsmarine.com.au
PRICING: From $89,775 including offshore safety gear
PROS
Bowrider design caters for the whole family.
Large and safe interior.
Low profile on the road.
Forward seating converts to sunbed.
Rear lounge can be removed for fishing outings.
Solid dive ladder.
CONS
A higher windscreen to provide more protection, a common issue for some boaters these days.
Older Post
2022 Seafari to the Mackerel Islands offered a timely insight into some of the other angling options

Newer Post
The Baron rises again