Assassin a deadly offshore weapon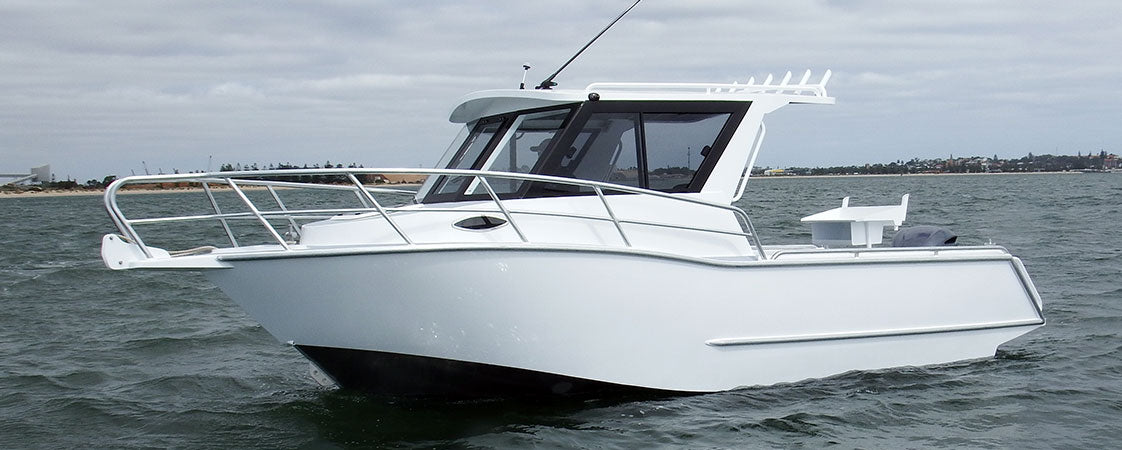 Whenever a new Assassin boat like the 660HT Dhufish hits the water its turns heads, as BARRY WISEMAN reports.
Assassin's 660 Hard Top Dhufish is as West Aussie as you can get.
Constructed in Perth for Bunbury's Sportsmarine Boat Centre, all Assassin craft are built tough to suit our Indian Ocean conditions and the hard-top configuration provides shelter for the crew, plus an anchoring point for the optional and ever-popular shade awning extending over the rear deck for those long, hot summer days.
The 660HT is a suburb family/fishing boat, the large rear deck proving space for all occasions whether you are picnicking with the family or heading way offshore with mates to drop a line or pull the craypots.
Its 2.5m beam caters for a pot tipper on one side plus capstan winch on the opposite gunwale, evenly balancing out the weight, particularly on a lumpy ocean. As with all Assassins there is plenty of freeboard, which translates to safety for all on board.
While registered as a 6.6m vessel in centreline length, the actual overall length is 7.7m , a decent footprint on the ocean.
The Assassin brand has been around for many years and is owned by the Sportsmarine Boat Centre at Bunbury, where owner Greg Collett commissioned their build in 1993. Many owners are repeat customers and it's rare to find them on the second-hand market. Operating the biggest marine dealership in our South-West, Greg's brief to the builder was simple as far as he was concerned.
"I wanted a heavy-duty plate aluminium boat that could cope in open waters, protect the crew in all weather, with bottom plates thick enough to take a beating while beach launching or travelling in shallow waters, high sides with heaps of strengthening to avoid flexing, good-sized bunks for those overnight stays and plenty of ventilation under the hard top with sliding side windows to allow the cross flow of a cool breeze," Greg said.
"Stability at rest or when drifting was also a top priority. The 660 and the 710 are our most popular sellers in the Assassin range. The sides are 4mm plate and the bottom is 5mm and we put a 300-litre fuel tank under the deck to give plenty of range, plus there is a massive kill tank under the floor."
Primarily a day fishing vessel, the berths up front and the amount of room on this vessel make it ideal for those week-long adventures in the north. The large fuel capacity, with an optional freshwater tank installed, would allow the keenest anglers to spend several days fishing over favourite spots along the coast or the gulfs and coves of Shark Bay.
SECURITY
The lock-up cabin can sleep a couple of adults and the bar work on the cabin roof doubles as a roof rack to store camping gear. The door to the cabin is two-piece, the upper section is stepped to match the dash console and it hinges upward and is held in place with gas struts, giving head room to walk through into the interior. The vertical door hinges to the left and is wide enough for big blokes to enter the step-down cabin. Room has been provided under an in-fill cushion to fit a chemical or electric plumbed toilet. There is more storage under the bunks for sleeping bags and pillows.
While the dash at the helm is large enough to take a pair of monitors for navigation equipment, the upper door is beefy enough to accommodate yet another flush-mounted sonar or whatever. At the time of writing, the only electronics fixed to the dash were the switch panel and management gauges for the Yamaha F225 XCA engine bolted to the transom. With the wide choice of navigational electronics available these days, Greg believes in leaving that decision to individual buyers. Once selected it only takes a short time to install.
The VHF GME marine radio was mounted in a boxed console under the hard top, above the skipper's head. There was also room here for fitting an entertainment stereo and speakers with easy access for wiring. The toughened glass windscreen was intercepted by a central opening window to allow more fresh air, along with the side sliding windows. Directly behind the glass screen a full-width shelf provides space for sunglasses, binoculars or spare fishing rigs.
Deluxe bucket seats with bolster cushions for the lower back were fitted to seat boxes, comprising storage hatches port and starboard. The tops of the seat boxes are also hinged, giving access from above.
This whole wheelhouse area, with its super-strengthened windscreen surrounds, gives that feeling of security and confidence in the build. Over the decades Assassin Boats has earned a well-respected reputation for quality and safety and this 660 gives that very same confidence. The deluxe armchair seats come with stainless steel flames and quality upholstery.
Substantial grab rails are all in the right places and while the hard-top roof on the review vessel had been left painted but not lined, a simple request could fix this. Many would argue it is better to be able to see the bare metal just in case any cracks appear over the years. Others, like myself, request the lining as it is also very handy and easy to install Hella Australia's power-saving LED day/night-time lighting over the helm and passenger seats. I have also installed a Hella LED bar light on the roof to illuminate the passage ahead, particularly among mooring areas, with a simple toggle switch in the roof lining above my head and next to the red night light. That is the real beauty of having a vessel customised and built locally; you can have the initial build completed according to the size of your current budget, then add to your accessories down the track. Every boating angler finds they could add that little extra to their rig as time and events lend themselves to make improvements to their fishing experience. In my many years of meeting and talking to new boat owners, few have been able to list ALL their wants to customise their craft during the initial build. There is always something that they wish they had thought about prior to taking delivery.
WORTH THEIR SALT
The ability to tailor the project to their own preferences is probably one of the main reasons for a boatie who is thinking of going down the track of having their next vessel customised. Find a builder or their retail dealership who has a track record not only for quality, but also ideas.
After you have spent countless hours thinking about what your requirements are for your boating experiences, be prepared to spend as much time with your builder. In this case veteran Greg at Sportsmarine. Tell them how you plan to use the vessel and they will come up with ideas and ways to implement your requests. A reputable boat builder will have collected a vast gallery of ideas and photographs of what people have requested and should be able to assist you in providing space-saving and practical ways to achieve your needs. As most custom boat builders say, anything is possible. You will be a much happier person retrieving your rig at the ramp after those initial sea trials.
The team behind the Assassin boats are living proof. There is always a big crowd around their vessels at the boat shows and with the return of the Club Marine Perth International Boat Show this year there will be much interest following the forced Covid-19 closure last year.
The hard-top roof of the Assassin 660 boasts seven rod/rocket holders plus there are heaps more in the gunwales, along with sinker wells.
Heading astern, the wide gunwales accommodate more rods and sinkers, and the aluminium plate is profiled so any water runs off the side rather than inside the vessel. This design lowers the full-length side railing which has been left unpainted and is ideal for sliding rock lobster pots to the rear for stacking. Non-skid paint is applied to the gunwales.
The aft section also comprises a large bait station complete with shelf for storing tackle and tools. The structure is removable and is mounted on the inner wall of the large motor well which protrudes into the cockpit area. A hatch below stores the master power switches and twin batteries.
On the port side there is a transom door to a very sturdy three-rung ladder and to starboard is another large storage hatch. Both sides have substantial marlin boards plus grab rails for those entering and getting out of the water.
The Assassin 660 Dhufish is a sleek looking vessel and from a distance you can notice how the hard top has been constructed in a convex manner to allow rain, green water or wash-down water to run off to the sides rather than into the rear cockpit. On the Assassin it is quite noticeable and it's an indication of the amount of thought that goes into this brand. So many vessels have a flat hard top which of course means water runoff heads into the back of the boat or pools in the canvas shade awning at the rear. Unsuspecting crew members can take a drenching when unzipping the awning.
Another great feature is the unpainted alloy D-shaped protective rub running two-thirds of the outer hull from the wheelhouse to the transom to guard against scratching when coming alongside a jetty or another vessel. A simple, yet well thought out feature, and one undertaken during the initial construction stage. I, for one, would like one on my plate aluminium vessel but it means a touch-up paint job would be required to repair where the extra welding was carried out along the sides. The original paint must be removed, giving a clean surface for the metal fabricator to do their job. I will think about it next time a paint job is required. Certainly, if a rub guard had been fitted my paintwork would not have suffered as much as it has during the past 20 years.
Heading to the bow section on the 660 Dhufish, there is a large anchor well and good height split safety railing and, as mentioned earlier, anglers up front can use the cabin roof to perch themselves.
The Assassin 660 Hard Top Dhufish is a substantial fishing boat and since our water test name decals and striping have been added and with an overall length of almost 8m and a deep vee it's well capable of fishing four or five people offshore comfortably. The high freeboard and substantial build make it also an ideal family boat. The rig comes on a heavy-duty I-beam customised drive-on tandem trailer built by Terry Holtfreter from Tezza's Trailers at Port Kennedy. With more than 25 years in the industry, each trailer is built with a low-profile chassis to aid launching and retrieval plus towing.
NUTS & BOLTS
MODEL: Assassin 660 Dhufish Hard Top
LENGTH: 6.6m (7.7m overall)
BEAM: 2.5m
POWER: Yamaha F225XCA
FUEL: 300 litres
AGENT: Made in Perth and commissioned by Sportsmarine Boat Centre; 57 Strickland Street, Bunbury. Phone:

 

(08) 9721 4390. Email:

 

sales@sportsmarine.com.au
PRICE: $139,975 as tested.
PROS & CONS
PROS
Heavy-duty construction.
Good family boat as well as awesome fishing machine.
Plenty of freeboard and excellent safety railing.
Heaps of room at 7.7m overall length.
Cabin and deck sleeping.
Lock-up cabin.
Option for electric toilet.
300-litre fuel capacity.
Heavy duty drive-on trailer.
Deluxe seating.
VHF radio fitted.
Offshore safety gear included.
CONS
Requires a substantial tow vehicle.
For long-distance towing, run with empty fuel tank to save towing costs.
NOTES
Fresh from the factory, the locally-built Assassin 660 HT Dhufish. The convex hard top roof allows run-off to the sides.
The full-length railing is recessed into the gunwale profile, allowing water to run off the sides
Good-sized marlin boards and ladder for bathers, with heaps of grunt from the Yamaha 225hp power plant on the transom.
The large dash has room for all your instrumentation.
An infill cushion converts bunks into a double berth.
Plenty of protection in the large wheelhouse.
The large kill tank provides dry storage space while towing to your destination.
Assassin boats come with a deep vee to handle the rough stuff.
Acute reverse chines throw the spray down and away from the vessel.
Older Post
Our lure casting sessions produced all the usual fun

Newer Post
Not bad for a bunch of reels