Ticking just about everything off the fishing bucket list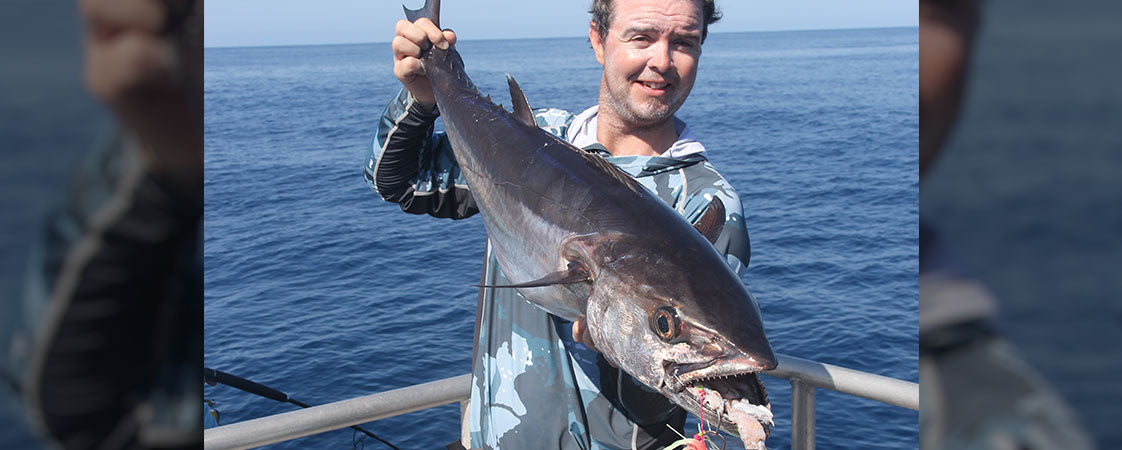 My good mate Andrew Jarvis reckons he's just about ticked everything off his fishing bucket list after a recent trip to Scott Reef.
For all his fishing adventures over the years Korg, as most of us call him, had never caught a dogtooth tuna and with his 65th birthday looming reckoned he was running out of time to do so.
So he seized the opportunity last month to organise a charter with seven mates to the remote Scott and Seringapatam reefs system, which is more than 300 kilometres north-west of Broome.
I've never been to Scott Reef, but it is regarded as something of a doggie hot spot so it certainly shaped as his best chance to get one during a global pandemic that prevents travel to other locations where they are found around the world.
This far-flung 'local' destination requires a 24-hour steam from Broome and Korg did the trip with Seaestar Charters, aboard its very comfortable 24m vessel Two Seas.
They arrived at Scott mid-morning after a calm trip out and not surprisingly were a very excited group and were keen to get into the action immediately.
For all on board it was their first Scott Reef visit, but all had heard the reports of its amazing fishing over the years.
With glassy conditions, the immediate goal was get some giant trevally and they were rewarded with a couple of 20kg-plus fish in an exciting start, although GTs then proved oddly elusive for the rest of the trip.
On the second day Korg set himself to have a crack at the elusive dogtooth, by jigging a dropoff from 30m down to 80.
The action started straight away and it was only 20 minutes before Korg hooked what he believed was a doggie on his Shimano combo spooled with 36kg braid and 100kg mono leader.
Against a heavy drag the fish easily peeled line off initially, but soon tired and after around 15 minutes he was looking at his bucket list fish, which was netted and brought aboard to much jubilation from the angler.
It wasn't a monster at around 20 kilos, but was nonetheless Korg's first doggie and great compensation for dropping his false teeth over the side the first evening.
Over the week the group caught around 10 doggies, all around that size, with Korg switching his attention to other species with that box ticked.
Two Seas, skippered by owner Kristin McCarthy, proved a perfect base for the week, with three tenders available to explore these waters.
While the doggie was Korg's main goal, arguably his most impressive catch was a monster coral trout that is the biggest I have seen in WA waters.
I was excited when I got a 92cm fish at the Rowley Shoals last year, but Korg's Scott Reef trout dwarfed that at 1.03m long and a whopping 16.1 kilos.
The group also caught strikingly marked trout of various sizes, along with red bass, wahoo and a reasonable number of sailfish to round out a memorable trip for all that made the long journey more than worthwhile.
Caption: John Kirwan with a Scott Reef dogtooth tuna. (Andrew Jarvis pic)
Older Post
Sea Jay walks on water

Newer Post
Our lure casting sessions produced all the usual fun