Wildcat with bite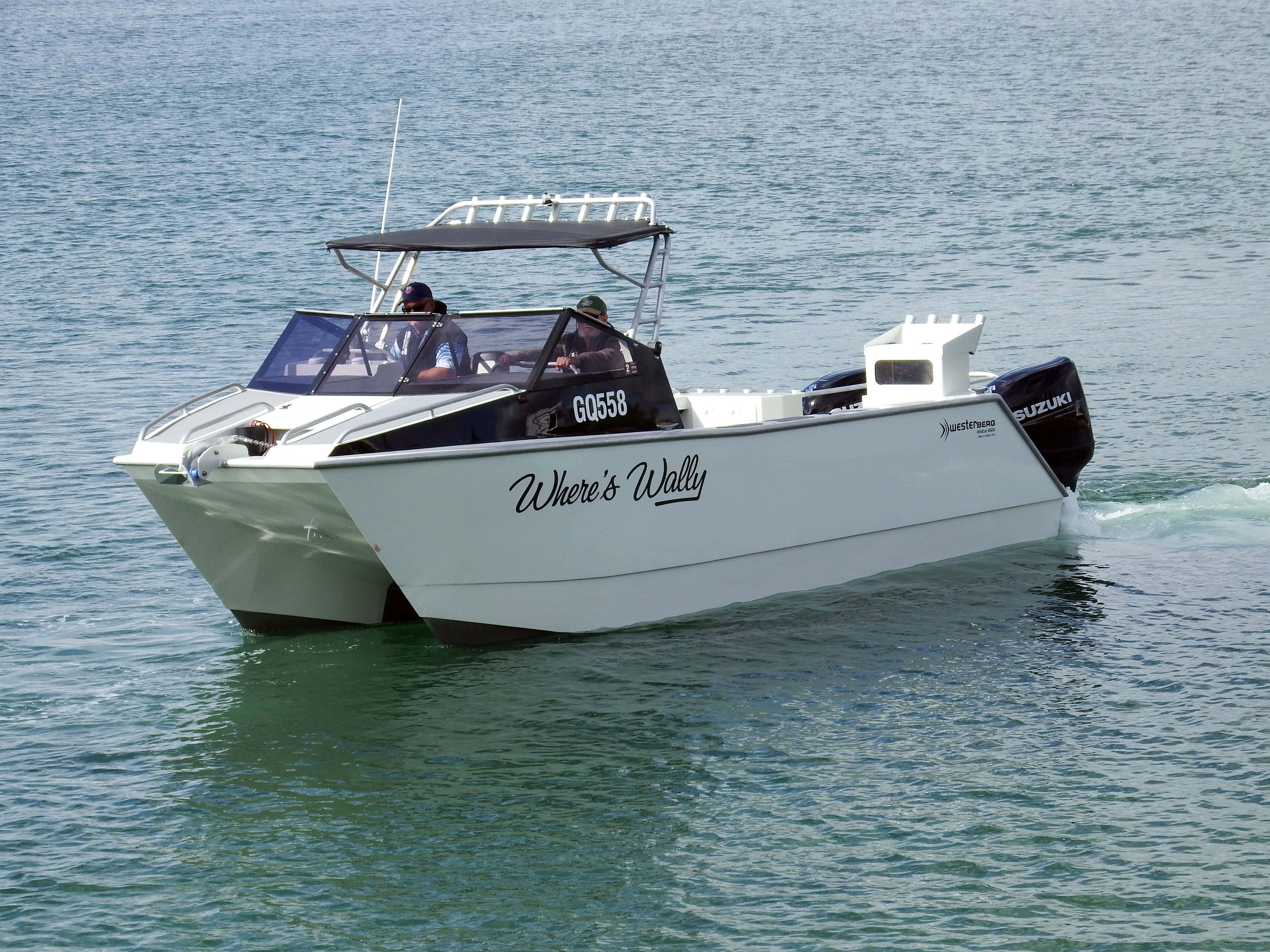 For the boating angler, nothing can beat taking delivery of a new vessel, particularly when it has been customised to your requirements, as BARRY WISEMAN reports on a new Westerberg 6.6m Wildcat.
"Simple, stable and solid", is the way Bunbury fisherman Cameron Walton summed up his latest acquisition, a Westerberg 6.6m Wildcat.
Cameron is no stranger to catamarans and this latest Westerberg brings the total to three multi-hull vessels he's owned in recent years. The others have been well-known brands from the eastern states, largely production boats that have served him well but not quite given him the room he wanted.
"I decided to bite the bullet and have a boat customised to my needs and whereby I have a say in the layout. Being able to talk directly to the builder is a fabulous advantage and I believe in supporting local industry," said Cameron, a commercial manager for a Bunbury electrical engineering company.
"This will probably be my last major boat purchase, so I wanted something that fulfils my every need and is going to last many years."
Westerberg Aluminium Boats of Albany is a well-respected company that has been building plate boats for decades, normally heavy-duty monohulls to suit our open water conditions, ranging in size from the 4.6m Elfin tinnie to the 7.5m Aurora and Southerner models.
However, they do get the odd request for a catamaran and owner/builder Rhys Jones was more than happy to show their design plans to Cameron, who wanted a spacious and stable platform.
"It had been a few years since we had a request for a cat even though they are well suited to our Southern and Indian ocean conditions. Cameron told us what he wanted, and we produced the plans for the 6.6m Wildcat in a runabout configuration," Rhys said.
Boasting a sharp entry and twin Suzuki 140hp four-stroke engines, initial sea trials produced speeds up to 75 kilometres an hour, a result Cameron was extremely happy with.
"I prefer catamarans in our open water conditions for their stability and comfort plus you get more room no matter what type of fishing you're doing. Also being born in Albany and knowing the Westerberg family, I think it is important to support local industry," Cameron said.
WHAT'S IN A NAME
The new boat has been named Where's Wally.
"My surname is Walton and whenever anybody is looking for me, I'm often on the water and they say, 'Where's Wally?', so I thought that would be a good name for the new boat. My brief to Rhys was, 'give me as much deck space as possible'."
"While I recently travelled to Augusta to fish, most of my activity takes place in waters off Bunbury or in Geographe Bay, waters I am more familiar with. My needs were for a day boat so there was no need for accommodation up front. I prefer storage under the foredeck plus a large rear deck.
"While I have installed a Stress-Free drum anchor winch in the well up front, I wanted a lean-through screen and steps to access the foredeck if need be. I have storage in both hulls at the bow and the bottom cavities are foam-filled which gives me extra buoyancy. My Life Cell safety gear unit is secured to the forward bulkhead within reach in an emergency."
"I went for the soft-top canopy version to help keep the weight factor down and because I am not a real tall person Rhys has designed the height of the windscreen just so I can see over the top. I do not fish with the clears in place, so being able to have good 360-degree vision is a good safety feature, plus the whole targa and rod holder can be folded back into the cockpit for storage or when driving long distances. It also means I can easily reach up to put the rods in the holders on the targa," Cameron added.
During his fishing expeditions, Cameron normally fishes three people along the starboard side of the vessel when drifting. To counter the weight and balance the vessel, the below-deck floodable kill tank is located in the port side hull, at the rear and just in front of the live-bait tank on the transom. The bait station is situated over the live tank and the two-piece cutting board is hinged allowing easy access to the tank. A fourth person can fish the rear accessway between the two Suzuki 140hp motors.
STEP IN THE RIGHT DIRECTION
Cameron says the performance of his new Westerberg 6.6m Wildcat is most noticeable compared to his previous cats.
"With my previous boat the spray would come up and over the top of the screen, also the wind would blow it across the rear deck. With the Westerberg, the spray is thrown out from the sides, keeping the aft dry. The aluminium sides of the Westerberg incorporate a step about a third of the way up from the chines and while adding to the strength of the vessel, the stepped sides throw the spray back down and away from the vessel. It is a very dry boat, and I don't think I have had any spray come across the windscreen at all. I fish without using the clears and I would always get spray wetting my face with my previous boat, but not with this one," he said.
"It's level at rest and when the power is applied the compressed air coming into the tunnel between the two hulls is shot out the back, producing a dry ride and rapid lift onto the plane."
Sea trials off Albany produced impressive speeds, with even better results since a propeller change from a 19-inch pitch to 21-inch. Cruising in good conditions at 4900rpm, the boat is happy at 52-55 kilometres per hour. Pushing it out to 6000 revs Where's Wally sat on 70-72kph. Not yet wanting to reach WOT, Cameron is confident he can achieve a top speed of 75kph. He says he is using less fuel with the twin Suzuki 140hp engines (280hp combined) than he did with his previous single 200hp motor. Heading well offshore out of Bunbury, power and speed are major factors in case the weather turns for the worst, hence the combined 280hp on the transom.
Then of course there is the stability offered by catamarans, especially when drift fishing or hoisting rock lobster pots over the side.
"I know Cameron is incredibly happy with the performance of the Wildcat. It rides very level and during our ocean trials off Albany, with six people on board, there was extraordinarily little listing to one side. The reverse chines on the outside of each pontoon prevent that leaning over effect. We built our last catamaran about five years ago and I was even surprised at just how quickly the twin hulls get the boat up and underway with little effort," Rhys added.
The 6.6m catamaran features pontoons made from 5mm plate aluminium on the bottom and 4mm sides. The frames are also 5mm thick, as with the hull and deck stringers. The vessel has a draft of less than half a metre and can sit squarely on a sandy bottom at low tide. Great if fishing the tides in the north. There is plenty of room for a couple of swags on the deck and you could easily spend overnight on the vessel waiting for the tide to change. The self-draining deck is made from chequer plate for that added strength.
Below deck there are twin fuel tanks, each holding 140 litres, and there is a large kill tank under the deck on the port side, immediately below the very substantial fish cleaning/bait station which also incorporates a see-through live-bait tank. A second kill tank on the starboard side is optional but Cameron did not want this feature due to the fact he and his mates fish the starboard side when drifting.
"I've also found with the soft-top option the boat does not drift as fast as my previous boat. Being a cat, it drifts side on to the current and so far I have not had to deploy a sea anchor to slow the boat down. That is a big advantage of a catamaran as a mono hull drifts on an angle or bow first and a sea anchor is deployed off the stern. A cat allows fishing along the full length and I choose to do that on the right side of the vessel where I am close to the controls if need be in an emergency," Cameron explained.
Side pockets run the full length of the cockpit and act as a step when alighting from the boat. A deck wash hose is in the pocket on the rear port quarter.
Twin hatches along the transom house the batteries and plumbing for the bilge pump and deck wash. The gangway access between the two motor wells leads to a drop-down ladder for bathers and scuba divers and when not in use acts as safety railing for anyone using this location to dangle a line.
While the Westerberg 6.6m Wildcat package includes the latest Simrad NSS 12 Evo3 electronics and SS164 through-hull transducer, Cameron opted for a full range of Furuno instruments. He chose a pair of flush-mounted GP-1871 chartplotter/fishfinder units, plus a separate eight-inch FCV-588 fishfinder. The anchor winch control is located on the dash to the left of the steering wheel and next to the switch panel.
The passenger dash holds the Fusion stereo, GME VHF marine radio plus a large open glove box.
The twin-engine remote-control binnacle for the Suzukis is mounted to the right of the steering wheel and the whole dash has a neat, square box-like finish with easy access for the skipper.
Many Westerberg vessels come with an acid wash and Nyalic poly coating finish which gives a silver appearance. However, Where's Wally has been painted white with an unpainted deck. The dash and windscreen have been pushed as far forward as possible while keeping within the build specifications.
"It's been great working with the builder rather than through a retailer. With the original plans they had it as a walkaround configuration and heaps of bar work, whereas I wanted the cab section pushed forward and to have a walk-through screen. In all my previous boats I have had to stand on something to reach the rod holders on the targa. Now I have no problem in storing my rods. That little bit of customisation makes a lot of difference," Cameron said.
HOLDERS GALORE
With a quick glance around the vessel I counted more than 21 rod holders, plus there's ample room where the deck meets the sides for anglers to tuck their toes for better leverage when hauling in the big ones. At the time of my stepping aboard, Where's Wally had been out on six trips, bagging out on five occasions. A trip to Flinders Bay off Augusta soon after picking up the boat from the Albany factory was not fruitful, with Cameron declaring his lack of local knowledge was to blame. Subsequent expeditions to more familiar waters off Bunbury resulted in good bags of dhufish and pink snapper.
"The customisation has allowed me to start off with a blank canvas and there's little I now have to do to get the Wildcat to where I want it. I spent four-and-a-half years getting my previous cat to where I was 80 per cent happy with the set up," Cameron explained.
Nine out of 10 skippers who go down that bespoke track will tell you they should have done it sooner. There is much more satisfaction in having a say in the build plus a great thrill in seeing your next dream come to fruition.
NUTS & BOLTS
Model: Westerberg 6.6m Wildcat
Length: 6.6m
Beam: 2.4m
Power: 2 x Suzuki 140hp
Fuel: 2 x 140 litres
Gross weight: 2.7t (including fuel and tandem aluminium trailer)
Bottom Sheets: 5mm
Sides

 

4mm
Manufacturer: Westerberg Aluminium Boats; 186-190 Princess Royal Drive, Albany WA, 6330;

 

www.westerbergmarine.com.au

 

; email

 

westmar@iinet.au; Phone:

 

08 9841 2277
Price: $179,480 as viewed. From $161,250.
Thanks to Bunbury recreational fisherman Cameron Walton for providing his vessel Where's Wally for this review. Available in centre console, runabout and hard top runabout.
PROS & CONS
PROS
Large open deck for day fishing expeditions plus room for swags if extended stay is planned.
Stepped hulls for dry ride.
Folding targa and canopy for easy storage and long-distance towing.
Under foredeck storage plus extra foam buoyancy.
Good fuel range of 280 litres.
Kill tank under deck on port side to counter fishers on the starboard side.
Tandem Westerberg aluminium trailer.
CONS
Specified day boat so no forward sleeping accommodation.
Older Post
Westerberg 7m Southerner

Newer Post
Getting your Sealegs