Ashley Prescott took advantage of a trip to Broome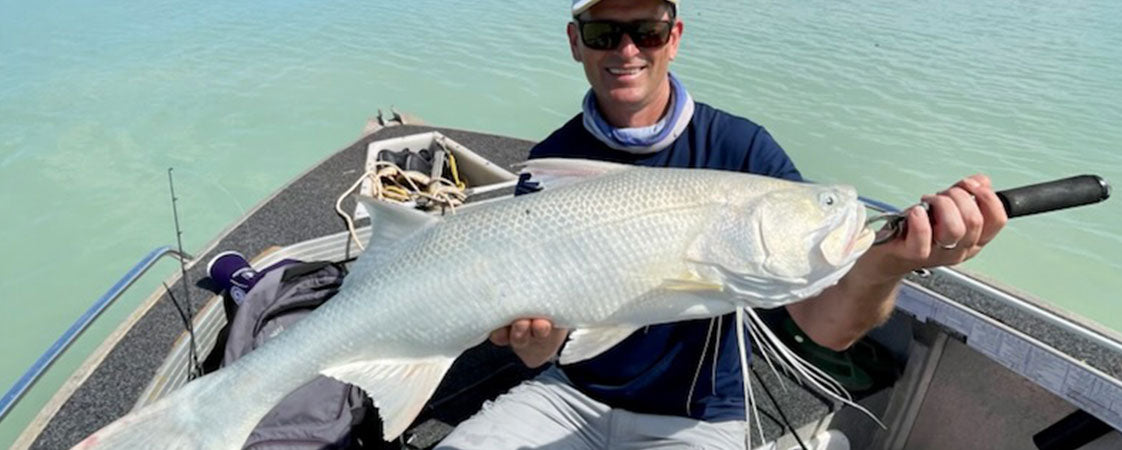 The Claremont coach has been using fishing as a stress reliever since narrowly losing the WAFL grand final to West Perth, so a trip to the popular tourist getaway on football duties was too good an opportunity for this fishing tragic to pass up.
Ash was in Broome with his old AFL team, Fremantle, and Claremont and he wanted a day on the water, so I put him in touch with Olly Tarrant of Phat Time Fishing.
I haven't fished with Olly, but he was highly recommended by gun Kimberley guide Peter Tucker, with whom he works at Kuri Bay.
Ash organised a day out with Olly, who mainly operates out of Broome during the wet season through to March, offering sportfishing charters into Roebuck Bay, which has blossomed into an amazing fishery since commercial fishing was removed.
Olly mainly chases threadfin, barramundi and tripletail in the coming months and that suited Ash down to the ground.
The pair decided to head to Crab Creek, launching a 4.2m Renegade to search for big threadfin salmon, which are firing at the moment.
They were greeted by a fair bit of bait moving around and fish busting up, while Olly's side-imaging sounder was showing plenty of shapes that they believed were threadies.
Barramundi could also be seen chasing bait inside the little drains.
When they got close to the mouth of Crab Creek, they started trolling Zerek Fish Trap soft plastic vibes and got hits straight away.
The threadies were up in the shallows with their backs out of the water chasing bait at times, and casting close to the drop-offs into deeper water worked well.
In quick time, the pair nailed six big threadfin salmon to about 90cm during a hot bite that lasted around 30 minutes, with all fish carefully released.
They also saw another boat drop a sizable barramundi.
Ash loved the threadies, which hit hard and usually jumped when hooked, before powering off on their runs.
He said the water was actually pretty clean and they were entertained by dolphins and manta rays while fishing.
They also had a look for tripletail on floating debris but didn't have any luck.
"It was a magic morning," Ash said.
"We only fished for about three hours and for around 30 minutes they were on.
"Olly was a wealth of knowledge and so enthusiastic about fishing, and also passionate about the environment
"He was really onto the variety of species and the different options in the area.
"We used barbless hooks and he was keen to make sure we look after the fish, so we put them back in great condition."
Born in Broome and a fishing tragic, Olly kept his fishing interest up while growing up in Perth by chasing dhufish and diving for crays.
The 23-year-old is loving being back in his home town and also has a 6.4m boat that he fishes out of in Broome.
Anyone keen on fishing with Olly can contact him via the Phat Time Fishing Facebook page of website, and you can book with him online.
To cap a fantastic trip to Broome, Ash then got onto some pretty big tarpon and small barramundi from the shore at Willie Creek, just north of town, the following day.
Older Post
White Noise

Newer Post
One nice rainbow in the lower Lefroy