White Noise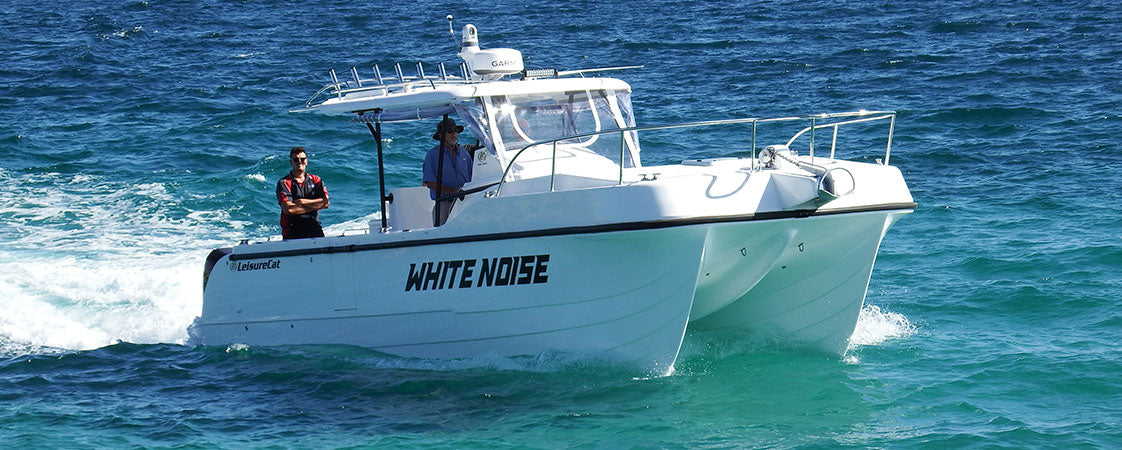 It is totally new, and according to the builder, there is no other like the latest 10m Mako Centre Console from LeisureCat Australia/Malaysia, as BARRY WISEMAN reports.
White Noise is a term usually associated with electronics and radio interference. However, there is nothing static about Mandurah fisherman Brad Johnston's latest love.
Sporting the new twin Mercury Racing 450R outboard motors, the monstrous LeisureCat 10,000 Series Mako Centre Console was developed for the US market and is based on the proven 9m Kingfisher Express catamaran hull.
Mounted on a tri-axle trailer, we readied the vessel for launching at Woodman Point, dwarfing everything in sight and getting plenty of attention.
"I thought it's white in colour and it's going to be noisy, so why not White Noise," came the reply from Brad to my query about the name.
The 450R is steeped in Mercury Racing DNA, featuring a 4.6-litre V8 supercharger four-stroke powerhead that delivers 450 peak horsepower, with the manufacturer claiming 40 per cent more torque than the already powerful 400R, while staying 136kg lighter than the nearest competitor.
Minutes later, the twin 450Rs were fired up and while each motor weighs in at 312.5kg, there is no way I would call them noisy. Mercury has worked wonders with the silencing of its full range of engines in recent years and if you go onto its website, you can hear eight seconds of audio of the 450R running. Brilliant.
Brad Johnston and his son Ethan, who was also aboard this day, love their fishing, wetting a line to the west of Mandurah or heading to the FADs in the waters around Rottnest. The holiday island is also big on the rest of the family's play list, hence the need for a bit of luxury on board.
While the 10m Mako is the latest in LeisureCat's innovative models designed to meet the needs of the serious fisher, there is one stand-out feature not seen in centre console model vessels and that is the large double berth with standing room for dressing, plus an electric toilet for those overnights on the water.
The double berth is built into the bow section and takes full advantage of the 3.2m wide beam, which of course on a catamaran is the same width up front, midships and across the stern quarters.
"I wanted a boat that we could head well offshore to chase some good fish, plus take the family to Rottnest and spend a few days with that bit of luxury. The centre console model gives us plenty of space to walk around when working the bottom plus the gunwales are at a good height for safety when the youngsters are on board," Brad added.
"The main requirement was for space and a level, dry ride. The rear deck gives us plenty of room to pull the craypots and the winch on the gunwale takes a lot of the hard work out of it."
The review boat featured a tackle and preparation station located in the console, immediately behind the seating area. It incorporates a large live-bait tank with glass window to allow daylight to keep the bait/catch alive. No problems keeping the crays fresh for that barbecue later in the day in a sheltered cove at Rotto.
This workstation also includes a large cutting board, stainless steel sink with running water, tool shelf, plus Isotherm fridge/freezer. When not used for fishing expeditions, it doubles as a mini galley for food and drink preparation.
The earlier LeisureCat 9m Kingfisher Sports Cab vessel also featured a similar tackle station which proved extremely popular. However, the extra one metre in length in this model provides a larger rear deck area for handling rock lobster pots.
The development of the 10m Mako began well before COVID hit. The sports fishing/family vessel market in the United States is void of the popular 9m length with overnight sleeping arrangements. The main production is for fast, day boats that head out to fishing grounds and are capable of making a quick trip home before any weather blows up.
"Predominantly many large centre console or catamaran hulls do not have sleeping accommodation, so we were going to give them something different. Sleeping accommodation and a toilet in a forward cabin, which, as I say, you just cannot get. So, we designed this vessel to go to the US, but COVID stopped that," said Kevin Horsley, director of marketing and sales at LeisureCat Australia/Malaysia.
Shipping problems and worldwide travel restrictions meant the vessel went on display at last year's Club Marine Perth International Boat Show and caught the eye of Brad.
Industry shutdowns due to staff shortages and the delays in obtaining electronics and the Mercury outboards have certainly been testing for both the builder and the customer, however Brad and son Ethan finally got onboard this day for a sea trial.
Initial tests resulted in wide open throttle speeds up to 53 knots, with the Mercury technicians recommending a prop change to achieve more revs and top speed of more than 55 knots.
Taking control of the helm, Brad's broad grin said it all as he enjoyed a boat that was meant to be in the United States.
"HAVING built the boat and with airline travel being cut, we could not ship the vessel and ask the US dealer to sell something with which he was not familiar. So, we were not able to make the full introduction to the American market. We were wanting to attend the Miami Boat Show and show the boat off to dealers and potential clients and move on from there, but that could not happen. It can happen now with COVID travel restrictions lifting, but it was not possible last August," Kevin explained.
"We are calling it a centre console because everyone knows that configuration. The fact it has accommodation forward and the full walkaround and the console style is just a bonus for everybody. Whereas normally, there is just seating up front which is rarely used. This is a larger hull, with wider beam, and you could put diesel motors in this one if you wanted."
Below deck there are twin 600-litre fuel tanks plus 240 litres of fresh water. Towards the stern you also have two fibreglass catch bins measuring approximately 260 litres. They lift out with your catch to be carried ashore. Underneath each bin there is more storage in the pontoons.
A big plus for a vessel of this size, in fact any size above 6m, is the walk-through door on the starboard side. This is a real safety feature, particularly on this boat due to its high freeboard.
Earlier, I referred to the inner height of the gunwale which is great when the ankle biters are on board. Opening the side door at the jetty allows for easy walk-on access for everyone, big and small, young and old. Let the young guys jump into the boat, but the day will come when a door is preferred.
Such features are designed to make boating more pleasurable and safer.
Brad has applied that same logic when it came to fitting his electronics.
The Mako has a large dash, so he chose twin Garmin 8416 (16-inch) touch screen monitors paired up with a Garmin M265LH Chirp 1kW in-hull transducer capable of operating in depths up to 1000m. Also wired up is a Garmin radar unit, GME VHF marine radio and the head unit for a Fusion stereo system with subwoofer and six speakers located around the vessel.
Living on the canals at Mandurah, Brad knows he is going to be navigating at night, hence the installation of a FLIR thermal night camera on the roof of White Noise.
Using the latest generation Boson thermal core, the M200 camera allows boaters to see at night, identifying other vessels, jetties, and particularly at Mandurah those channel markers and bridges in the estuary system. A very handy tool.
Some years ago, a storm blew up while I was camped on my boat up the Murray River at Mandurah. The unseasonal Easter storm brought torrential rain which pooled on the storm covers, eventually leaking through the zip in the roof and wetting the kids in their sleeping bags.
At 2.30am I decided to head back to the boat ramp at the Mandurah Offshore Fishing and Sailing Club. It was slow going in the heavy rain as we followed the red channel markers from the mouth of the Murray River, across the estuary to the port and starboard markers in the channel heading to the Mandurah waterfront and marina.
It can be deceiving just how close you are to those markers when in heavy weather. Brad will be happy he spent the money on the FLIR system.
Brad heads up a steel reinforcement company based in Rockingham and has been in the construction industry for more than 30 years. White Noise is going to bring many hours of relaxation to him and his family, plus a few lucky company clients are likely to find themselves aboard.
"I was attracted to the LeisureCat mainly because of the quality of ride. I had researched many catamarans and I found myself coming back to our local product. They are built for our open-water conditions, and you can feel that full-length wave breaker between the hulls doing its job of smoothing out the ride. Plus, there is no misting out the back deck which is often the case because of water being forced through the tunnel," Brad explained.
Clears were fitted to the console so the boat can be used during the winter months, plus an electric anchor winch on the bow, forward LED light bar, floodlights over the rear deck, and courtesy lights under the gunwales.
While the massive Mercury outboards each generate 115 amps of power, easily enough to drive Brad's range of electronics, he also decided to install twin 160w solar panels on the roof of the console to keep the batteries topped up while his pride and joy is cradled on its floating berth outside his back door.
The extra power supply will be handy for those lengthy trips away, such as a week or so at the Abrolhos Islands and certainly the front berth provides the sleeping arrangements.
There is a big double mattress that could easily sleep mum, dad, and a couple of kids. With the bed spread across the beam, there is storage underneath in each of the two pontoons. Then there is the electric toilet with the infill cushion.
As you enter the cabin there are three steps, giving you the head space to stand upright to get dressed. For a dedicated fishing trip away, there is plenty of deck space to throw a swag down. Of course, the catamaran hull allows you to sit the vessel on the bottom at low tide without compromise.
Kevin Horsley is quick to point out this new 10m hull, with its wider beam than the earlier and extremely popular LeisureCat 9m Express and Kingfisher, is also available as a 9m boat. If customers want the shorter version, an infill is inserted into the 10m mould during construction to accommodate the 9m version.
When things eventually get back to some form of normalcy and the current astronomical expense in shipping freight settles down, this Australian 10m cat with sleeping arrangements is bound to make an impression on the American market. In the meantime, there will be plenty of local fishos and family groups wanting that extra space now available on this LeisureCat 10,000 Series Mako Centre Console.
NUTS & BOLTS
MODEL: LeisureCat 10000 Series Mako Centre Console
LENGTH: 10.6m
BEAM: 3.2m
Weight (dry): 3200kg
Fuel: 600 litres x 2
Fresh water: 240 litres
Day head: Forward lock-up cabin
Sleeping: Large double
Power: Twin 450hp Mercury Racing
Height on trailer: 4.3m
Manufacturer: LeisureCat Australia/Malaysia; 2 Egmont Road, Henderson; phone (08) 9437 6477 or Kevin Horsley on 0419 049 863;

 

www.leisurecat.com.au

 

.
Price: From $195,000 plus engines and electronics.
PROS & CONS
PROS
Huge, workable, deck space.
At 10m, this vessel has the length to cope with large seas.
The twin pontoons and wavebreaker slice through the waves.
A beam of more than 3m provides a level ride and excellent stability.
Large fish catch storage bins which can be removed from the vessel.
Live bait tank built into fish/tackle station which doubles as a galley.
Full walk around deck.
Spacious centre console with large dash.
Forward cabin with sleeping and toilet arrangements.
Big console roof for radar, electronics aerials and FLIR camera.
Quality build with EVA foam deck cover.
Side door plus large stainless ladder astern between engines.
CONS
A big boat really takes some towing. It is ideally suited for canal dwellers or a marina pen. LeisureCat transports this 10m vessel on a tri-axle aluminium trailer built by Duralite Trailers in Rockingham and towed by a light truck.
Centre consoles can be wet, but Brad ordered plastic clears fixed to the console sides to give protection from winter rain, which makes good sense.
Older Post
Another magical morning on the beach at Hamelin

Newer Post
Ashley Prescott took advantage of a trip to Broome